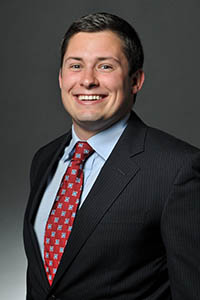 Grant Gardner
MS student at University of Nebraska Lincoln
What are your research interests:
I am interested in precision agriculture and farm management. I grew up on a small farm in Southern Indiana which gave me an interest in technology, management strategies, and other processes that increase farm profitability.
What research projects are you working on?
I am currently working on project that uses spatial data to evaluate different methods for variable rate nitrogen application and how these methods affect profitability.
What is your career goals?
After graduation, I would like to continue my schooling in a PhD program and eventually become a professor at a large land-grant institution.
What is your next step after graduation?
Not known yet
What do you do in your leisure time?
I currently serve as an Advisor for Alpha Gamma Rho Fraternity at UNL. I am very regular at the gym, and I enjoy exploring Lincoln restaurants on weekends.